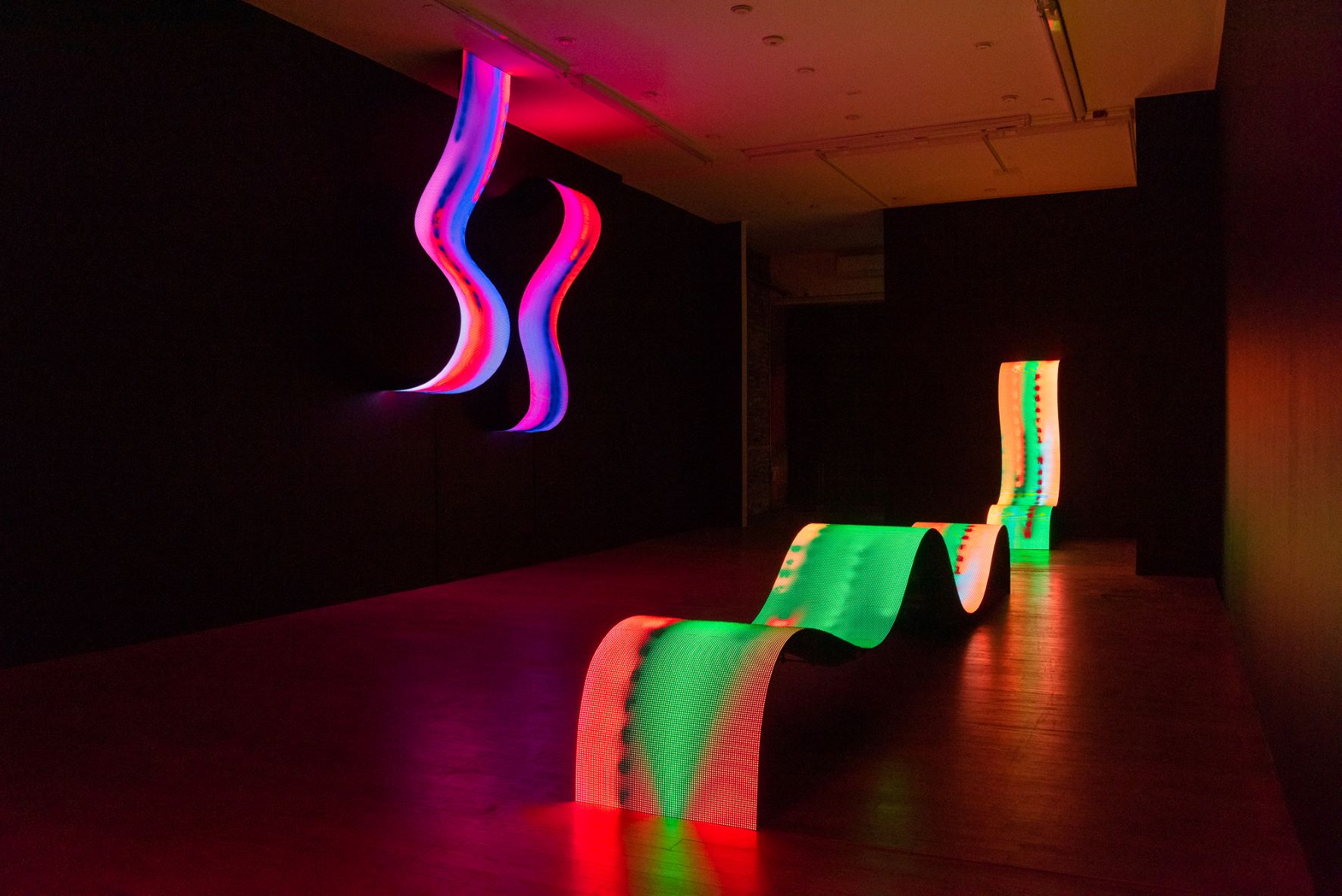 Multidisciplinary Artist Daniel Canogar Links History to Contemporary Times
New media artist Daniel Canogar presents his latest show "Loose Threads" at Galloire Contemporary Art Gallery in City Walk, Dubai. I spoke to the artist about his inspirations and his unique subject matter; he shared with me that he often looks to the past, and that he now appreciates the study of history more than ever.
The practice of "new media art" is a contemporary phenomenon and artistic category, often rooted in digital media and technologies. Daniel Canogar, a Spanish-American artist, is at the forefront of this practice, having landed distinguished commissions including public art installations and site-specific works globally from Madrid to Basel, Rio de Janeiro, Rome, Riyadh, and Dubai, in addition to others. His project was installed in the Spanish Pavilion of EXPO 2020 in Dubai; now he is showing "Loose Threads" at the prestigious contemporary art gallery Galloire in City Walk, Dubai. I sat down with the artist for a conversation, and our talk immediately turned to the past, and the role of technology in our lives since, even, ancient times.
Portrait of Daniel Canogar by Alberto Feijóo, courtesy of Galloire contemporary art gallery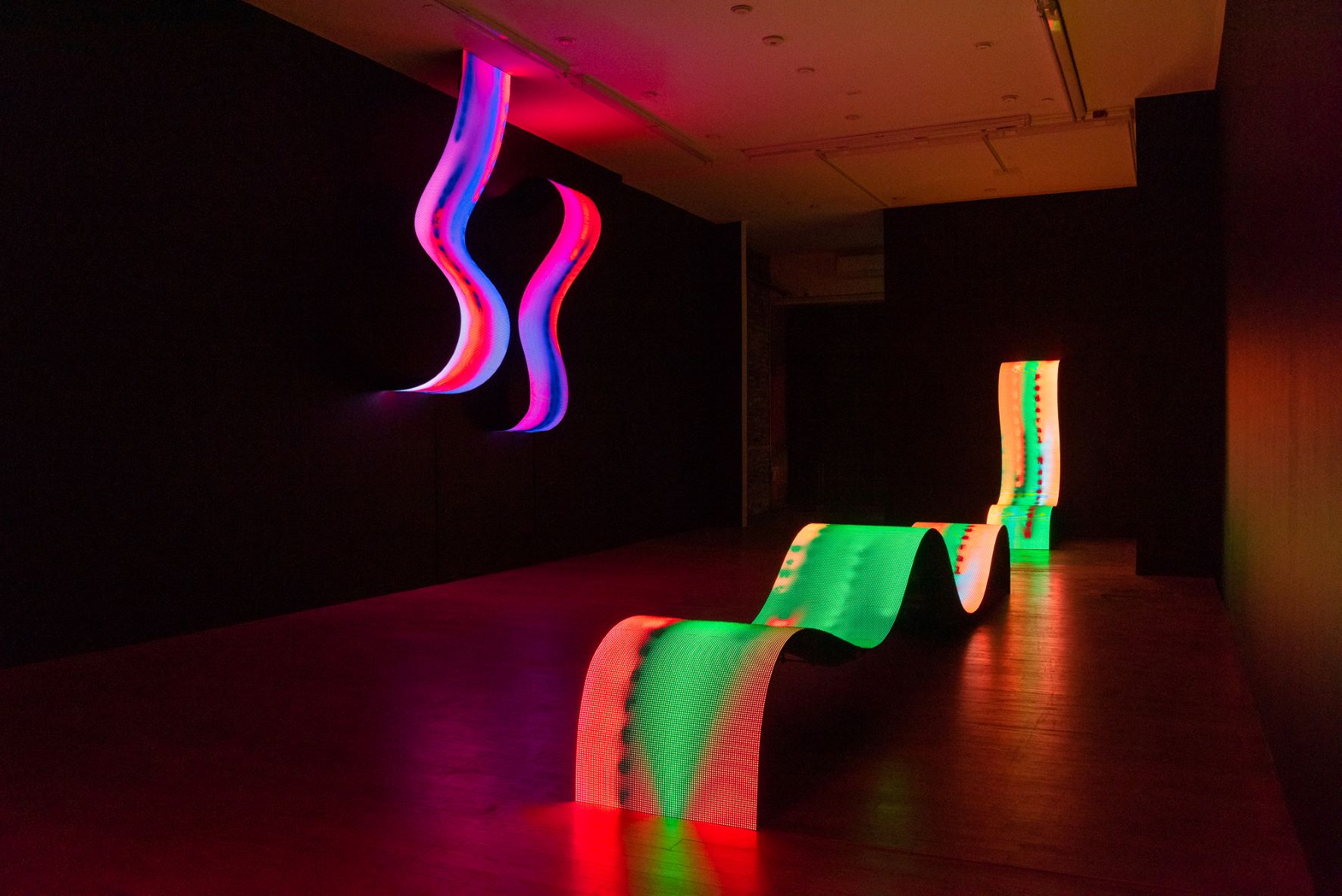 Billow-3 by Daniel Canogar, photo courtesy of Galloire contemporary art gallery
One of the inspirations for this exhibit, the artist shared with me, was an art collection he saw in Lima, Peru, about 9 years ago. It was a private collection of textiles from the Inca and Nazca civilizations, as well as from other South American tribes. Indeed, the artist was exalted by the works he saw and left the art show "in tears". He saw the collection a second time a year and a half later, and had the same experience, the same "emotional connection". He realized that, in addition to containing typical references (such as the jaguar, the sun, and the snake), these textiles had different weaving techniques depending on the meaning behind the item (such as a weaving technique for funerary textiles versus another one for bridal clothing). He was astounded; "That for me was another level of sophistication; it was like a meta reference to their craft."
Another inspiration for the exhibit was the invention of the Jacquard loom in 1804, which catapulted the Industrial Revolution. "The Jacquard loom was considered by many historians to be the first computer; the punch card was the first algorithm," Canogar stated.
So how do these two historical references relate to Canogar's practice? "I now see screens as modern textiles", is the best quote to summarize the artist's concept for his work.
"Maybe we haven't changed that much; tools have changed but our obsessions, our concerns, our anxieties and our fascinations are still maybe very similar."
Abacus (2022) by Daniel Canogar, photo courtesy of Galloire contemporary art gallery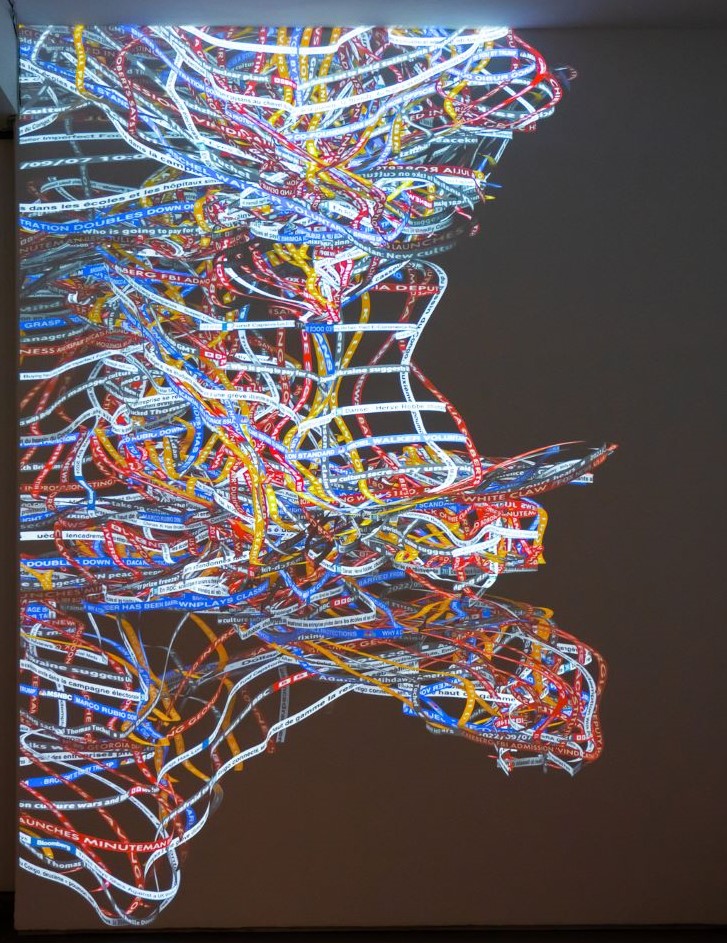 Chyron (2022) by Daniel Canogar, photo courtesy of Galloire contemporary art gallery
The "Loose Threads" art show includes the "Pixelweaver series", which is a series of digital artworks including an HDR screen, a customized software and a computer, per artwork. Chyron (2022) is an "algorithmic artwork featuring chyrons of major international news channels, including CNN, Fox News, Bloomberg, BBC News, Reuters, CNBC, Al Jazeera, and Le Monde." The artwork is linked to the internet and updates in real time. The Chyrons intertwine in this sculptural way, becoming, really, like new media textiles. Abacus (2022) "displays and reinterprets real-time financial information from main stock market indexes, such as Dow Jones, Nasdaq, FTSE and DAX, as well as data from cryptocurrency and foreign exchange markets." The different ticker tapes intertwine, as Canogar weaves his very own contemporary digital textile, displayed on a 75" 4K HDR screen.
A third, more somber artwork of the Pixelweaver series is Túnica (2022), which is an homage to the deceased from COVID-19 in Madrid between 2020 and 2021.
The artist Daniel Canogar and the author Maie El-Hage at Galloire, photo courtesy of Galloire contemporary art gallery
Daniel Canogar and Túnica (2022) at Galloire, photo by the author
Since these artworks are all in real time, and connected to the internet, I saw the work as a manifestation of instantaneous global moments. The artist agreed; he stated that his intention is to make these electronic realms tangible, physical and literally sculptural.
Needless to say, Dubai seems to be the perfect place for the artist's oeuvre. "Screens are very present in the urban fabric of Dubai," Canogar disclosed. "Screens are displayed on entire buildings, [one can see] screens as architecture. It is a very high tech location here with clear internet reception." Canogar's previous installation in the Spanish Pavilion at EXPO 2020 was lauded, so it is of no surprise that the artist feels welcomed here.
And of the artist's journey in the NFTs world? The artist shared that he did work on a few NFT projects, but didn't pursue it fully, yet. He finds it "interesting as a cultural phenomenon" and something definitely to consider for the near future. He believes, though, that it will change, evolve even.
Galloire Art Gallery, City Walk, Dubai
photo by the author
Interior of Galloire Art Gallery, City Walk, Dubai
photo by the author
Speaking with the artist and seeing the show was truly inspiring for me. The artist draws on his background in photography; he started in analog photography and switched to digital early on. In fact, he also holds an M.A. from NYU at the International Center of Photography (1990). Quickly soon after, however, he pursued more technical and technological media for his art. Canogar is an artist that works with technology, but he doesn't see it as separate from our histories. "I have always been interested in how technology has acted and changed and affected us, and how we try to adapt to new technologies," the artist explained. "I like to use technology as a creative tool to think about technology, to think about issues, and to examine how technology is impacting our lives."
Indeed, this has never been more crucial than it is today.
The art exhibition "Loose Threads" by Daniel Canogar ends on Friday, February 24; there are a few more days left, so make sure to pass by Galloire Art Gallery in City Walk, Dubai and see the show before it ends!
To see more photos and stories, check the author Maie El-Hage's account on Instagram here.