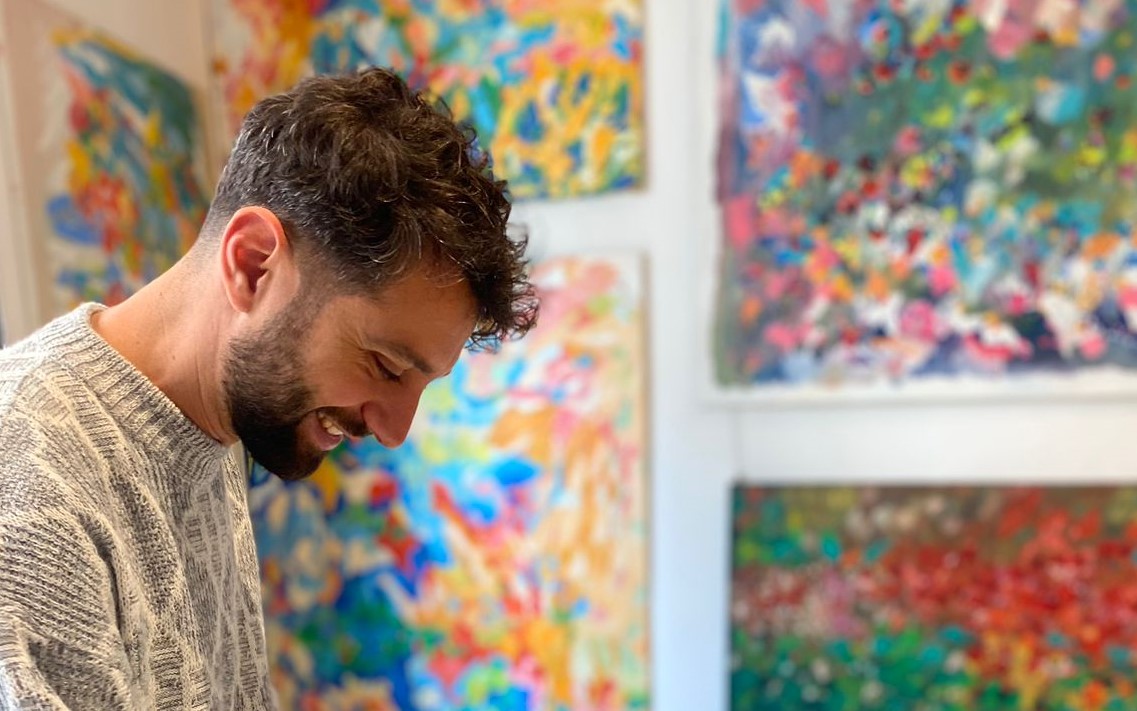 Exclusive! Getting Candid with Elias Ayoub
In an exclusive interview with Beirut-based artist Elias Ayoub, the artist reveals to me his impressions of the project "3 Artists and Nayla Tueni", what he considers truly makes an artist, and why he tends to gravitate towards figurative works.
In a late Spring morning, the artist and I sat down in his studio with some tea to talk about (amongst other things) that which was on everyone's mind: how was the project "3 Artists and Nayla Tueni" in his experience, and what were his impressions?
"Instead of working privately in my Atelier, [I was] working publicly, in front of other artists," he shared with me. "There are two sides to this issue; how do you present yourself and how do you receive from the other [artists]." It was a deep discussion. Elias acknowledged that part of this project was to 'perform', to work in front of the other artists, the guests and the general public and to 'expose' each artist's work process. This, Elias shared with me, he found to be humbling. And yet, Elias also felt this pushed his work process to a new dimension; to that of 'performance'. "The experience pushes a person to abandon this excessive self-awareness that an artist has, and to embrace the performative aspect as a public figure," Elias explained. "Once the aspect of performance enters the work process of painting, the project becomes one of a declaration." In many ways, Elias shared with me, they were all 'declaring': Louma, Semaan, Nayla, and the other guest artists. Elias, as the others did, got to witness first-hand: how does an artist start a painting? How does he/she mix and use colors? How much time does each artist spend on details? "I really learned a lot, just by being present there and working with the others. It had a sweetness to it," Elias confessed.
The artist Elias Ayoub in his studio (photo by the author)
"The charitable aspect was a huge motivator," Elias declared. Indeed, as I myself witnessed at Louma Rabah's art studio, the turnout was impressive. People arrived, and bought art, before the pieces were completed! "Even your painting!" Elias reminded me. We laughed. Truly, I had preselected a piece before Elias added his final touches. "A woman bought a piece the same day she was traveling. She selected it before it was completed, before it was signed even. [laughs] This was a new experience for me, and I had to overcome these taboos because, you know, it was for a good cause." Elias grinned when he shared this with me.
Elias Ayoub in the art-making process at Louma Rabah Art Studio for '3 Artists & Nayla Tueni' (photo courtesy of Louma Rabah)
"Let's talk about your choice of subject matter, and why that changed over time," I asked Elias, turning the conversation into a more somber one.
"As an artist, finding your identity, your true identity not a fake one, takes time," Elias stated. Elias comes from an academic background, having studied painting at the Faculty of Fine Arts in Damascus University, and also holding a Master of Arts degree from Kursk State University in Russia. Furthermore, he is currently completing a PhD in History and Philosophy of Art at Surikov Art Institute in Moscow. In his studies, he was introduced to Realism, Impressionism, Post-Impressionism, Fauvism and Modernism as he experimented in those styles and techniques, in search of his identity as an artist. "I had all that history laid out in front of me," he shared, "and all I could do was to experiment, in each style, until I found my voice. Alas, I chose that path, and it was a harder path. Yet, it was also a more authentic one."
Elias shared with me that, in his opinion, artists these days look for a signal, something that differentiates them from others. Once they find that signal (be it a symbol, a technique or a specific style), these artists 'repeat' this symbol, without letting go. This way, they don't evolve. Elias shared with me what he believes to be the true definition of an artist. "The role of the artist in society is how honest he/she is in his/her declaration of what he/she is experiencing, or what we are experiencing collectively as a community," he explained. The instability in the region came up, the war in Syria specifically. The artist addressed the calamity in a phase in his artworks, communicating the anguish that people experienced. His subject matter would eventually change and evolve, especially after moving to Russia.
The artist Elias Ayoub explaining his philosophy (photo by the author)
In the artist's studio (photo by the author)
"Why always figurative work?" was my next question addressed to Elias. As usual, Elias had an elegant answer to that. "Without any prejudice, human beings ultimately have judgement and an appreciation for art. For me, as an artist, to address what I feel from person to person, I have to portray it through the imagery of human beings. Also, I take extreme pleasure in reshaping the human form from observation and memory." Elias's work, especially his most recent oeuvre, shows a woman reading from a book, or a couple making love, or a figure smoking, and often all in the nude. The book becomes a reference, or nostalgia, to a previous time before the digital gadgets became ubiquitous. "And yet," Elias reminded me, "we should not limit an artist to a specific subject matter or style." An artist should always be free to evolve.
It truly was a special interview, punctuated sometimes with banter, and often filled with good humor and the love of the subject: Art. Thank you, Elias, for sharing with me your deep thoughts and experiences.